I was on the airplane 3 nights ago, a return flight from European family fun and travels- and found myself contemplating how growing up in Brooklyn near Coney Island may have been a blessing in disguise-
I became fearless going on the "scary" rides even though I never would go on the parachute- there were known accidents on that one and I was very safety conscious- Mom was a worrier.
Going in the front car of the roller coaster, approaching the top (with friends of course ) and looking at the big drop ahead gave no time to do anything except scream & hold on tight! So it went through the fun summer months. Thinking back over the years, I did many courageous things and not much scared me. Here are a few that got me thinking back to the scary rides…:
•Walking on hot coals while on a mind body spirit retreat in Santa Fe ( first time away from my young children too). We had lots of prep time and when it was my turn I was ready. Awesome.
Skiing.This wasn't worth it for me; injured and it could've been worse… Later on I took up cross country- fun!
Para sailing Puerto Vallarta: This was the ultimate overcome of fear of heights for me. I was sitting on the beach for several days meditating (and drinking pina coladas) and surprised myself with the conscious decision into action. Very challenging and I did look down a few times when I wasn't looking at the mountain.
Riding a bicycle in Amsterdam last week.  Steve and I were visiting our daughter who lives there with her Spanish boyfriend. The city is really set up for cycling but I convinced myself it would be tough, it's difficult enough being a pedestrian there- 'cause of all the bicycles! My daughter went off riding with my husband and after a while came back to get me- they knew I would love it and it was only a few blocks to Vondel Park. Steve and I visited that city 40 years ago and rode our bikes around that we bought in Italy.
Back on the trip forty years ago- we rode our bikes out of Florence (where we bought the racers- and mine was a boy's with the bar- the only kind made at the time) and I scared myself with a coughing attack that precipitated me throwing the pack(s) of Marlboros out- which was scary 'cause I couldn't imagine not smoking "cold turkey" which I succeeded at. And it was difficult- maybe not scary- to totally change our travel plans so that we went back to the city and got the bikes on trains that rode out of the seven hills, through the Alps and landed us in Germany to enjoy the rolling hills (so we could use all the gears ) and along the Rhine onto Holland. Of course we stopped to eat and sleep in foreign lands- sometimes in hostels and sometimes in the forest, scary and amazing.
I'm happy to be telling you all now. When friends and strangers comment on (both) our daughters living in Europe – I smile and am happy we brought them up with roots and wings – and the ability to navigate the scary and unknown.
• The scariest thing of all for me was 9/11 and the period following that. Were we really OK? Then it became more than me and being empty nested- yes our daughters already just in Europe- and it was much more than getting off the coach and back onto the treadmill and back into the gym- even that was scary after a dark period.
Now getting through the airports is kinda scary. Getting off the Long Island RR into Penn station is fine if I look straight ahead and focus. That's it, and what I recommend:
When things get scary look straight ahead and focus. Be in the moment as much as times permit.  Be present. Be happy. Be resilient!
We've got the Now! Only once.
~~~~~~~~~~~~~~~~~~~~~~~~~~~~~~~~~~~~~~~~~~~~~~~~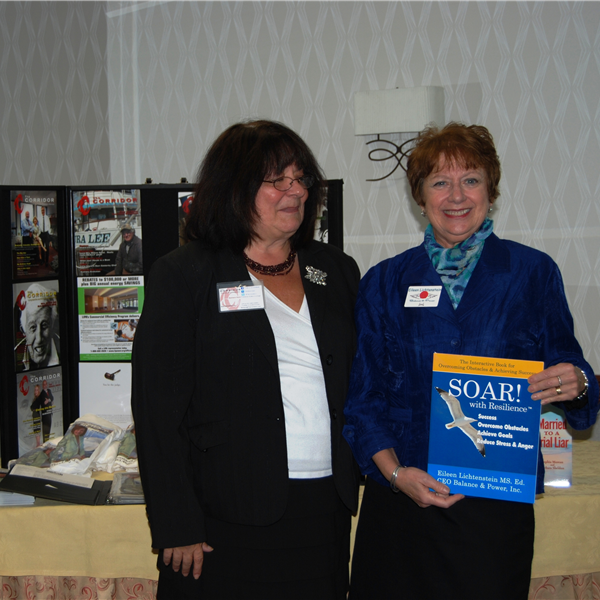 A big shout-out Thank You! to Barbara Kent, publisher of "The Long Island Corrider" magazine of the area who organized and hosted a luncheon to honor Long Island Authors and gave us the opportunity to talk about our books and lives.